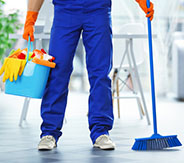 From Boardrooms to Restrooms, 365 days per year, 24 hours per day, 7 days per week we are at your service, providing you and yours with a janitorial program that fits the needs of your facility.
Al' Carte' to All-Inclusive, the following services help provide your facility with complete janitorial services.
Our areas of janitorial expertise are as vast as our areas of service coverage.
General/Full Service
Day Porter
Consumables inventory control & supply management
Light Industrial
Restroom Sanitation
Foodservice stations sanitation
Commercial Move-in/Move-out