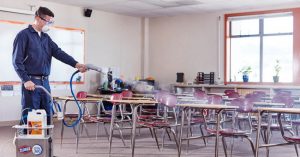 Quality Touch Janitorial Service, Inc. is a leading provider of commercial and residential cleaning, sanitizing, and disinfecting services. Maintaining regular practice includes routine cleaning, disinfecting of surfaces, equipment, and other elements of the work environment.
Our company uses an electrostatic machine that charges the disinfectant and spray as a mist. It disinfects as it is air drying so there is no need for a wipe down reducing the chance of cross contamination. In keeping with the CDC's recommendations, we follow steps to ensure the safety of our cleaning crews, our customers, and their spaces. Our products have a 99.9% disinfecting rate and is on the CDC's list of chemicals approved for COVID-19 Coronavirus.
During this pandemic, health and safety are our number one priority. In addition to preventing the spread of COVID-19, we are committed to keeping you clean, safe, and healthy in your homes, businesses, schools, and social environments.
ENTRUST THE SAFETY OF YOUR ENVIRONMENT TO US
Office Spaces
Banquet Halls
Churches
Medical Facilities
Banks/Lobbies/ATMs
Daycare Centers
Nursing Homes
Hair Salons
Restaurants/Eateries
Vehicles
Homes
Schools
Barbershops
WE PROVIDE SERVICES TO HIGH TOUCH AREAS IN ALL ENVIRONMENTS SUCH AS BUT NOT LIMITED TO:
Conference Rooms/Tables/Chairs
Restrooms/Fixtures/Partitions
Doorways/Handles/Light Switches
Vending Machine Button Panels
Computer/Mice/Headphones
Buses/Seats/Handrails
Face Shields
Telephone/Remotes Controls
Handwashing Stations/Water Fountains
Stairways/Rails
Desk/Chairs/Furnishings
Athletic Equipment
Cubicles/Walls/Floors