Service Expertise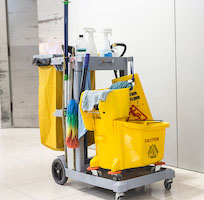 It's All in the Details!
Quality Touch Janitorial Services Inc. reaches far beyond a well-cleaned and sanitized environment.  We ensure customer satisfaction and quality service.
We provide full service seven days per week at hours that correspond with your needs.  Our rates are comparable and we provide on-site supervision of our cleaning staff.  We are a self-monitoring operation with skilled professionals who are bonded and fully ensured.
Health and safety are our number one priority.  We are committed to keeping all environments clean, safe, and healthy, whether it is from H1N1, MRSA, Covid-19 or other infectious illnesses or just general sanitizing.
Our focus is on the quality of our services each and every time.
QUALITY, SAFETY, EFFICIENCY
Below are some of the service categories where we are the experts.  Many of these services allow you to build a cleaning package that suits your facility's need while providing a healthy work atmosphere for your employees.
We invite you to browse the categories below to help us assist you with your specific needs:
Construction Cleanup
Floor Care Services
Green Cleaning Services
Janitorial Services
Sanitizing/Disinfecting Services
Specialty Services